Everything you need to know about eye health for kids
From their first cross-eyed wobbly glances as newborns through to laser-sharp toddler eyes that don't seem to miss a thing, vision in children develops at a phenomenal rate in their first few years on earth. With approximately 80% of all learning coming through visual pathways, taking care of your children's vision from day one is vital. From recognizing potential vision issues to eye tests and sunglasses, here's what you need to know about protecting developing eyes.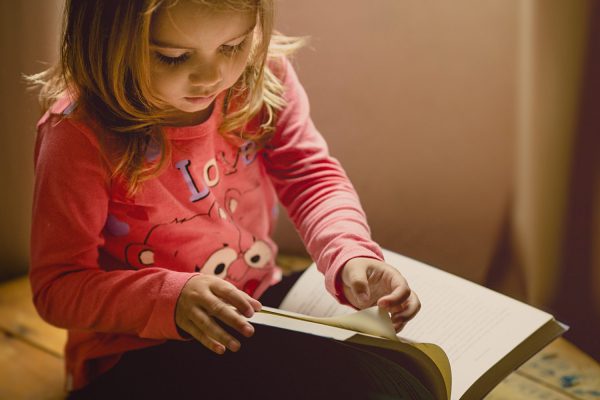 Vision screening for under-fives
The American Academy of Ophthalmology (AAO) recommends that four vision screening checks take place before your child's fifth birthday. These are completed by different professionals and can mean being referred to a specialist for treatment if any issues are found. The recommended schedule is:
Newborn – basic indicators of eye health are checked by a doctor or trained health professional. This includes checking their

red reflex

,

blink, and pupil response by shining a bright light in each eye. If there is a family history of eye issues or the baby is premature, an ophthalmologist will typically carry out a thorough eye exam.
6-12 months – the newborn tests are repeated, along with a visual examination of eye movement and alignment.

 

12-36 months – healthy eye development is checked and sometimes your doctor or health professional will also do a

photo screening test

. This involves a special camera taking photos of the eye to detect any common problems.

 

3-5 years – testing at this age will pick up any issues before your child starts school. Usually, the good old-fashioned eye chart can be used to test 20/20 vision.
Keeping an eye on issues at home
Apart from screening checks, there are signs of vision problems that you can watch for at home. This is particularly useful in under-fives who might find it tricky to verbalize their problems. These are some common things to look for:
Constant eye rubbing, pain, or itchiness
Straining their eyes or tilting their head to see better
Sensitivity to light and/or excessive tearing
Misaligned eyes

 

Drooping eyelids
Pupil discoloration (white or grey-ish instead of black)
Red or encrusted eyes that don't go away in a few days
If you notice any of the above, get in touch with your health professional right away. 
My child needs glasses. Now what?
While it might be daunting and emotionally difficult for parents, picking up eye issues in your child can be a complete game-changer. They can often be the cause of learning or behavioral problems, particularly in little ones whose vision issues might be so normal for them that they don't even know there's a problem. So, once you're armed with the prescription, where do you begin?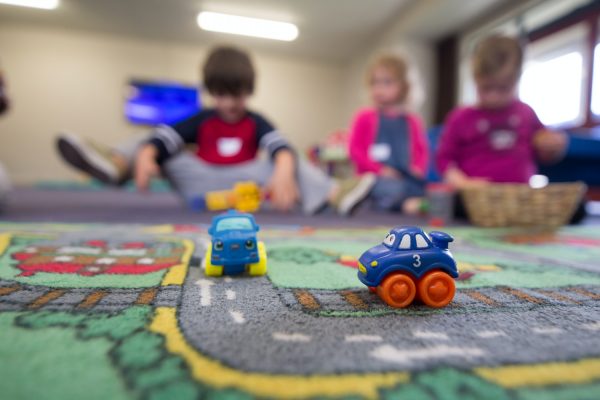 Finding frames that fit
When it comes to fit, the most important thing is to make sure that your child's eyes are centered in the lens. Avoid buying frames that your little one can 'grow into' as they'll be too heavy and slide off the nose. Next, check the bridge for a snug fit – there shouldn't be a gap between the frame and the nose. The right fit is crucial to glasses that your little one is happy to wear.
Essential accessories 
Even with the best-fitting frames, kids are so active that accessories to help their glasses stay on are a must! Straps and 'Stay Puts' are two options for keeping glasses in place. Stay Puts hook behind the ears to keep the glasses in place, while straps that go around the head can be more comfortable for some. In addition to keeping the glasses on, you'll want to stock up on cleaning wipes for your handbag, car, and home. Sticky little fingers and constantly touched lenses need cleaning!
Learning to love their glasses
Wearing glasses is a huge adjustment, but your child might find it easier than you think. Seeing the world clearly is a huge incentive for little ones to keep their glasses on. To help them learn to love wearing glasses, let them help choose their frames, find some good books for kids with glasses and talk about their glasses in a positive way.
Glasses for healthy, developing eyes
Eye issues aside, it's equally important to protect healthy, developing eyes. From sunshine to screen time, keeping young eyes safe from damaging light will help them see clearly for years to come.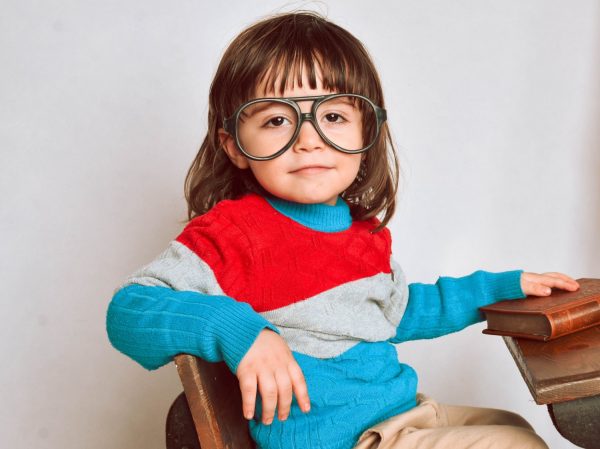 Sunglasses
While adults are great at popping on a pair of sunglasses when the sun's out, it's much less common to see kids and teens wearing them. UV exposure harms eyes and skin, and since it has a cumulative effect, starting protection young makes sense. According to the World Health Organization (WHO), children's eyes are more sensitive to UV absorption and up to 80% of exposure to UV occurs before the age of 18. 
Blue light glasses
Blue light is all around us — it's what makes the sky blue and what emits that glow from a device as your child plays games or watches a movie. Increased blue light exposure can cause digital eye strain (also known as computer vision syndrome) and disrupt the body's sleep/wake cycle. Neither of these is good for kids trying to concentrate at school. Blue light glasses filter out excess blue light and minimize harm in kids, teens, and adults. To learn more about computer vision syndrome and how blue light glasses can help, check out our recent blog here.
Windows to the world for years to come
While treatment technologies like bionic eyes and laser surgery are progressing quickly, looking after developing eyes is still the best approach. By following your healthcare professional's vision-screening schedule, issues can be identified and treated. But remember, it's important to watch for potential issues and take a proactive approach to prevent damage that will cause long-term problems. 
For professional advice, find your closest pediatric ophthalmologist here.