Sit up straight to up your energy, breathing and back health
Do you get home after a day at the office with a stiff neck, a sore back, and a throbbing headache? It could be your posture. Slouching or sitting awkwardly all day can cause serious issues for your muscles, ligaments, and bones. It can lead to nerve pain, back pain, and increased wear on joints.
Good posture doesn't mean sitting ramrod-straight in your seat. It means sitting and standing with your bones and joints in alignment, so your muscles can support your spine more effectively. Improving your posture takes a bit of work, but it can help prevent pain and damage to your joints, reduce headaches and back problems, and even give you more energy. Great posture can also help you look and feel more confident – a definite bonus in the workplace.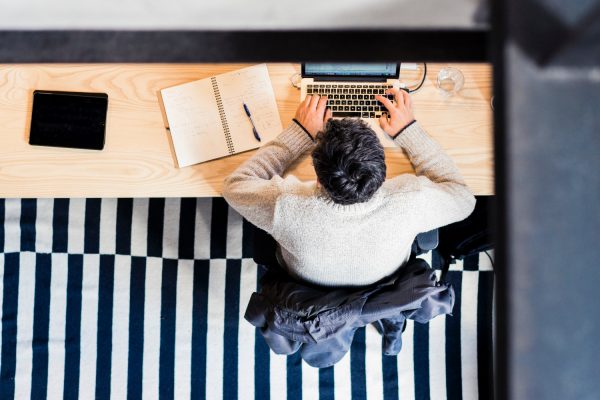 Improving your posture comes from a combination of changing bad habits and changing your work set-up. Often, quite simple changes can make a big difference to the way you sit, and the way you feel after a long day at work.
What does good posture look like? 
We all know what bad posture looks like – slouching in your chair, hunching over your computer, standing with shoulders slumped. But what does it mean to have good posture?
Good posture means sitting with your body in alignment, so your muscles, ligaments, and joints can do their jobs without being put under stress.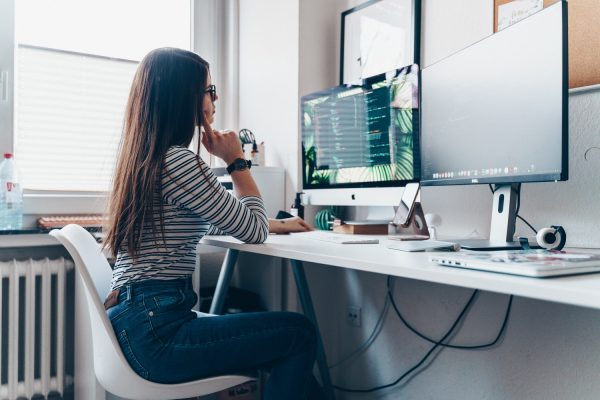 If you're sitting in an office chair, your feet should be flat on the floor. Legs should not be crossed, and ankles should be slightly in front of your knees. Ideally, your knees should be at or just below the level of your hips. Your back and neck should be straight, shoulders relaxed, and forearms parallel to the ground. Your head should be raised, your ears should line up with your collarbones, and your eyes should be looking straight ahead. 
Better posture benefits 
Sitting in an office chair for eight hours a day isn't good for anyone. Studies show that sitting in one position for long periods is associated with a wide range of health problems, from neck and back pain to diabetes and heart disease. While good posture can't solve all the problems associated with sitting, it can help to reduce the impact.
Better posture can help to reduce back and neck pain and reduce headaches caused by tension in the neck and back muscles. For some people, improving posture helps reduce fatigue and increase energy
, because muscles and ligaments are no longer straining to work. Better posture can also help improve lung capacity and breathing – simply because sitting up straight gives the lungs more room to expand.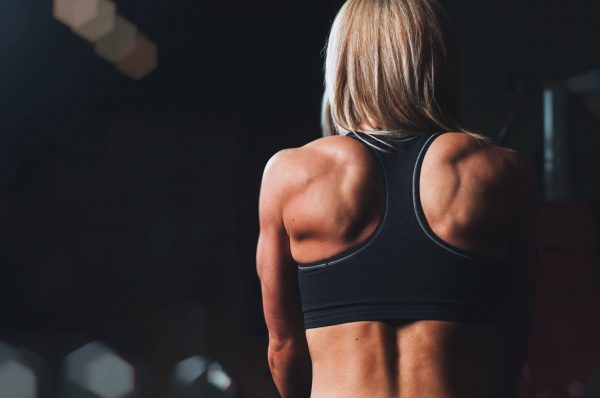 In the long term, good posture is also better for your joints. Standing or sitting awkwardly puts uneven pressure on the bones and joints, particularly the hips and knees. Long term, this can cause uneven wear in these areas, which can lead to pain and discomfort as you age.
Many people find that the benefits of good posture go beyond the physical. Standing straight and tall makes you look and feel confident, while hunching and slouching can make you appear disengaged and unenthusiastic. Fair or not, great posture can make you stand out at work.
Working on your posture 
It's all very well to understand the benefits of good posture, but it's much harder to change sitting and standing habits developed over a lifetime. Improving your posture takes time and effort, but the health benefits mean it's worth doing.
Here's how to start:
Be aware 
A big part of changing your posture comes from simply being aware of how you're sitting and standing, and making the effort to correct your position when you slip back into old habits. If you're used to crossing your legs when you sit, remind yourself to place them on the floor. If you usually hunch forward over your desk, make a concerted effort to straighten your spine and pull your shoulders back. You should be aiming for 'neutral posture', which means your muscles are aligned and your body is relaxed – you shouldn't be stiff or tense.
Adjust your workspace 
If your desk, chair, and computer set-up don't suit your body, it can be almost impossible to improve your posture. Simple changes include adjusting your chair so your feet touch the ground and raising the height of your monitor so you don't need to bend your neck. If your desk can be raised or lowered, that can help as well.
You may also want to request ergonomic accessories to help you – footrests for shorter people, lumbar cushions for lower-back support, ergonomic chairs and keyboards. Many workplaces are happy to provide these extras if it results in more relaxed and energised workers.
Consider a standing desk 
Now that the negative effects of sitting are widely known, standing desks have become more popular. These allow you to stand rather than sit, which can make it easier to maintain good posture throughout the workday. Most standing desks are adjustable, so you can use them for seated work when necessary.
Make time for movement 
Even if your posture is perfect, sitting in one position for long periods isn't good for your spine. And the longer you sit, the more likely you are to slump into a less-than-ideal position. That's why it's so important to build in movement during the workday. You don't have to go for a full workout at lunch, just try to get up and move at least once every hour. Stand and stretch your arms and back, walk around the office a few times, or walk down to your local café. Your body will thank you for it.
Good posture is worth the effort
Reduced back pain and headaches, less stress on muscles and joints, improved circulation, digestion, and confidence – the benefits of good posture are endless. It's definitely worth making the effort to adjust your workspace, and yourself.