Does beauty really have to mean pain?
While things have progressed from the days of using soot to enhance our eyes, wearing makeup has also progressed from a tribal, ritual-based occurrence to an almost daily one. Over 40% of Americans now wear makeup daily, and for many, it's as much a part of their routine as getting dressed in the morning. While applying makeup is generally safe (although it's worth keeping in mind cosmetics are not regulated by the FDA), you can run into issues when putting products close to your eyes. Learning about the risks and how to avoid them will keep your eyes safe and your makeup looking flawless – here's how.
Know the risks
Any products – eyeliner, eyelash extensions, colored contacts, and false lashes – that are applied directly into or very close to your eyes can come with risks. And if you get an infection, it could mean you'll be going makeup-free for weeks or even months. The four most common eye health issues associated with eye makeup are: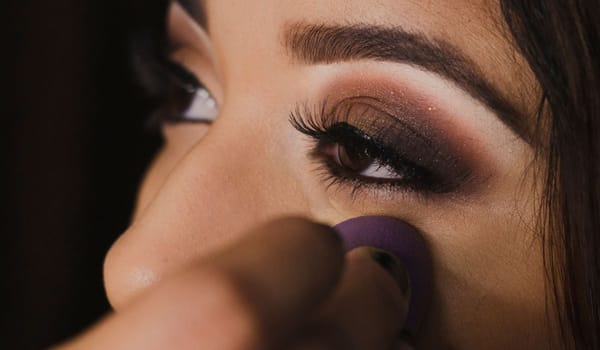 Blocked glands – 20 meibomian glands run along the edges of your eyelashes and are responsible for producing an oil essential for tear production. In the world of eye makeup, this area is known as the tightline (bottom lashes) or waterline (top lashes). Any makeup placed along here can block your glands and cause your eyes to dry out. With dry eyes can come irritation, blurred vision, and redness.
Bacterial infections – eye makeup is sometimes referred to as the 'perfect breeding ground' for bacteria thanks to its damp environment and likelihood of contamination. Think about how often you've accidentally poked yourself in the eye with a mascara wand – if there are bacteria present, it's easy for them to get in your eyes. If you develop an eye infection, it's essential to throw away your eye makeup rather than leaving the bacteria to build up in the tube.
Allergic reactions – most cosmetics contain chemicals, preservatives, and fragrances that can cause some people to have allergic reactions. While you might take the whole 'test on a patch of skin before use' instructions with a grain of salt, allergies can cause irritation, swelling, redness, and infection, so it's best to test before placing makeup around your sensitive eye area.
Scratches to the cornea – from eyeshadow brushes that have gone awry to slipped mascara wands, it's easy to accidentally damage your cornea when applying mascara, eyeliner, and even eyeshadow. Scratches to the cornea (known as corneal abrasions) often mean you'll need to visit an eye specialist to check the damage. Depending on the severity, you'll be sent home with lubricating eye drops, antibiotic drops, or possibly steroids and antibiotic eye ointment.
How to keep your eyes safe
Despite the risks, most of us aren't willing to ditch the winged eyeliner or statement lashes just yet. Fortunately, there's no need to. Here's how to keep your eyes trouble-free while still embracing the hottest eye makeup trends:
Restrict eyeliner to the eyelid only – don't mess with your waterline or tightline, and you'll avoid running the risk of blocking your glands. You're also less likely to get makeup in your eyes this way.
Expiry dates count – be honest, have you ever thrown out makeup for any reason other than it was empty or dried out? It's time you did. Due to a potential build-up of bacteria, it's vital to follow expiry dates – which for mascara and liquid eyeliner are typically between 3 and 6 months.
Keep brushes clean – it's essential to clean your make-up brushes and wands regularly to remove any bacteria that could cause infections. It's recommended you use specifically formulated cleaning solutions weekly or between uses, and give them a more thorough clean with warm soapy water every month.
Sharing isn't caring – be especially careful about tester products in stores. While there might be disposable applicators, bacteria can still be present in the makeup container.
Don't apply make-up on the move – it's tempting to touch up your makeup in the Uber, but this puts you at risk of a corneal abrasion – which is a touch-up you can do without.
Always remove before you snooze – sleeping in eye makeup can clog hair follicles around your eyes and lead to irritation. And no one looks good with panda eyes the morning after a big night.
Do the post-infection clean out – if you've had an eye infection, you'll need to replace all your eye makeup products to avoid the bacteria from coming back or spreading. It's also a great excuse to refresh your collection.
Enjoy eye makeup without compromising your eye health
While there are risks in keeping up with the latest eye makeup trends, most of these can be easily avoided by following some simple practices. And remember, if you're experiencing any eye issues, it's crucial to get in touch with an eye specialist for professional advice as soon as possible.