From beaches to Vegas, there's something for everyone!
Most kids have between 10 and 11 weeks off school over the summer, and finding activities to keep them occupied (and you sane) can be a real challenge. Fortunately, there are plenty of spots on our doorstep here in the States – from theme parks to camping adventures – that offer the perfect getaway for your family's summer break. Weekends away or extended stays, here are eight getaways that are guaranteed to be a hit with the whole family:
Walt Disney World Resort, Florida 
Known as the happiest place on Earth, Disney World in Orlando may not come cheap, but it promises a memorable family vacation. While it has timeless appeal across a broad range of age groups, the sweet spot is definitely 5 to 10-year-olds who will be blown away by the magical experience of meeting their favorite characters and seeing Walt Disney's creations come to life. Older kids can enjoy the thrill of the many rides and rollercoasters, and even adults are guaranteed to have a good time. It's a good idea to book accommodation and passes well in advance over popular vacation periods.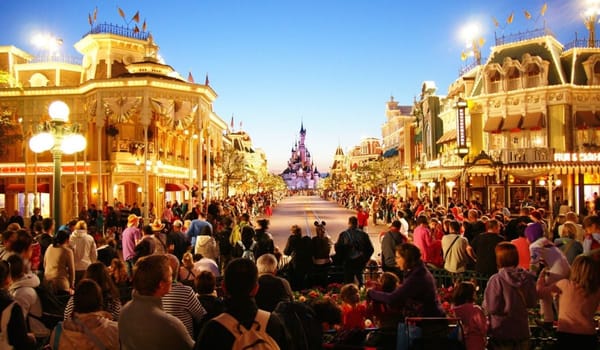 Yellowstone National Park, Wyoming 
Yellowstone National Park is perfect for families looking to get away from it all and reconnect with nature. There are walks for every ability and fitness level, from longer treks to light strolls around the park, and it's also home to the legendary 'Old Faithful' geyser, Mammoth Hot Springs, and roaming bison. At Yellowstone, you can camp, hike or fish to your heart's content. Hotels close by tend to be expensive, so reserving a spot at a well-equipped Mammoth campsite is a great way to get a true Yellowstone experience.
Miami Beach, Florida 
Hit the palm-lined shores of Florida's Miami Beach, pack a picnic, soak up the sun, and dip in the cool Atlantic Ocean. The shores below 5th Street and above 14th Street are where you'll find a family-friendly vibe, with other parts of the beach being a little more upbeat. The pristine white sands may be the main drawcard, but Miami Beach has plenty more on offer. From the nearby Everglades airboat tours to the Miami Children's Museum, you'll easily keep the whole family entertained.
Waikiki Beach, Hawaii 
If you're a beach and sunshine-loving family that appreciates a bit of entertainment on the side, Waikiki is the spot for you. This lively strip of Honolulu has plenty of attractions to take in, and expect a hula show or two. The area is well set up for kids, and most hotels in the area welcome kids with open arms. The Grand Waikikian is a popular choice – with four pools to luxuriate or splash in, and even a kid's club so you can enjoy some well-earned spa time.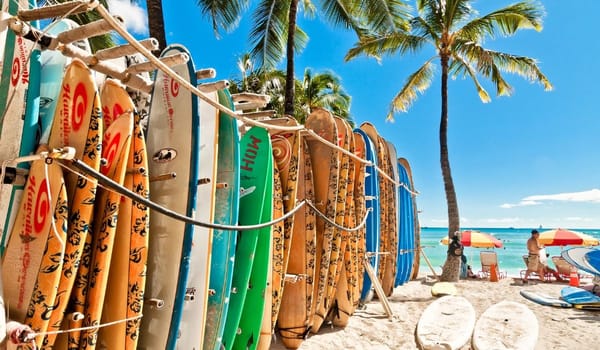 Grand Canyon National Park, Arizona
Kids aged 4 to 14 will love joining the Junior Ranger program and becoming official Grand Canyon Junior Rangers. Not only will they learn how to protect and preserve the park, but they'll also receive an official ranger badge and certificate to take home. There's biking, hiking, and river rafting for older kids, making it the perfect adventure for outdoorsy families. Camping at the North Rim campground is the best way to experience the park's beauty, or if you're looking for something a little more comfortable, book a room at the Maswik Lodge, nestled in the Ponderosa Pine forest at the canyon's edge.
Kennedy Space Center, Florida
If you've got space-obsessed kids, this could be the place of their dreams. But it doesn't mean the rest of the family won't find it interesting! The Kennedy Space Center offers you the chance to walk among the giants – you'll get up close and personal with rockets from NASA's Apollo, Mercury, and Gemini space programs, the opportunity to meet an astronaut, watch a live launch of a space rocket, hop into an astronaut training simulator, check out the Mars Rover, and more. While you're in the area, head over to the Air Force Space and Missile Museum to learn about rocketry and space flight history.
Cedar Point, Ohio 
Up for some serious thrills? Cedar Point is known as the 'coaster capital of the world' and offers 17 world-class roller coasters, three areas filled with rides and attractions for kids of all ages, and a huge waterpark suitable for everyone. Book into the park's nearby accommodation at Cedar Point's Express hotel and get early access to the park (an hour before it opens to the public)!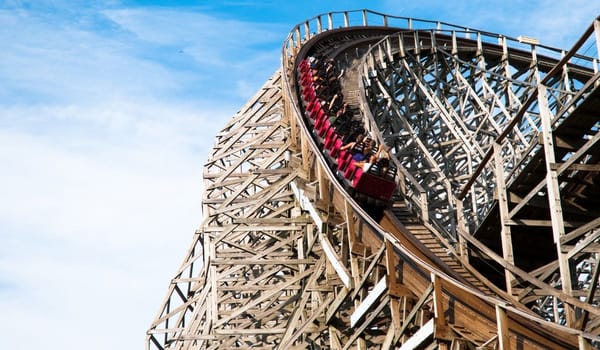 Las Vegas, Nevada 
It's not all bachelor and bachelorette parties and wild nights in Sin City – Las Vegas has plenty to offer the whole family. Including Cirque du Soleil, Siegfried & Roy's Secret Garden and Dolphin Habitat, and the Discovery Children's Museum, the only thing you'll struggle with is choosing which attractions to visit! And with some fun accommodation options like the Flamingo Las Vegas Hotel (with its Flamingo wildlife habitat) or the Mandalay Bay Resort & Casino (complete with an impressive aquarium), you might not even need to leave the hotel!
Start planning now and look forward to some family vacation fun!
Keeping kids entertained over a break that can seem to go on forever takes a little planning. But by injecting some destination fun into the mix, you'll all have something to look forward to – even if it's only a weekend trip or a few days to break up the long stretch. And there's always summer camp!
Disclaimer
Ensure you check any travel restrictions within your state and at your destination before planning a vacation, and check with your insurer for travel-specific coverage details.