Your 5-point plan
No longer reserved for elite athletes dragging themselves around a grueling, unforgiving course, triathlons offer a variety of distances suitable for total novices through to full fitspo-types. With home-based workouts, new-found passions for baking, and general slothfulness a serious feature of 2020, now is the perfect time to set your sights on the achievement of a lifetime. All you need is a healthy dose of commitment and motivation, mixed with the following know-how, and you'll be skipping over that finish line in no time.
Sure, I love athleisure wear, but a triathlon?
Having a goal to work towards is the ultimate motivation when it comes to exercise. Running aimlessly on a treadmill or punching the air in a pump class can become unfulfilling over time. Adding a tangible goal to your fit-life like booking a triathlon event will give you something to focus on beyond simply checking off that gym time. Not only will you get in some serious calorie-burning, but you'll also be doing your heart a favor, gaining strength, and acquiring some impressive bragging rights as you cross that finish line. Move over marathon, triathlon is the full-body, cross-training workout that we all need right now.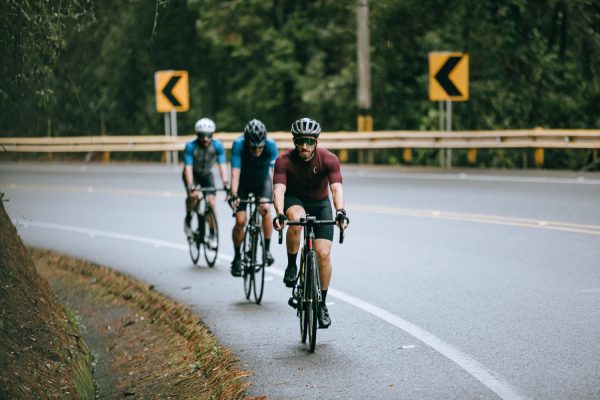 The newbie event – the sprint triathlon
You've probably seen the images of cyclists struggling under the beating sun and delirious athletes dragging themselves over the finishing line – that's not what we're about. The sprint triathlon offers the perfect taster event for newbies that have some general fitness, and a challenge you can complete with a mere 12-week training build-up. Made up of a 750m swim, 20km bike, and 5km run, you'll feel the burn and benefits, without it taking over every aspect of your life, unlike its Ironman counterpart. If you already exercise regularly through the week, you can simply swap your normal regime with a specific triathlon training plan (we'll talk about this next) with little impact on your weekly schedule.
Preparation is key
Training for a triathlon does take a certain amount of preparation, and following a good training plan will help you on your way. With just a 12-week lead-up to an event, it's important to schedule your training into your diary. A week (or even day) where training gets missed can make a big difference to your plan. Typically, a 12-week plan will be broken down into these three basic segments:
Developing a base – the first few weeks are generally spent getting used to the different disciplines and building muscle strength.
Building on distance – the middle (largest block) of the training plan is where things get serious. You'll work on building speed, distance, and endurance.
Race preparation and tapering off – during the final few weeks leading up to the race you'll take it slightly easier and work on any specific skills you might need for race day.
Combined with a comprehensive training plan, you'll need to focus on consistency, letting yourself have enough recovery time to avoid injury, and getting your head in the game with mental fitness. Believing in yourself and knowing you can push through boundaries will have you prepped for race day.
What you need to know about the swim, bike, and run
While the distance of each leg of the race may seem pretty achievable in isolation, it's when all three are combined that the magic kicks in. Here's what you need to know to ace each discipline: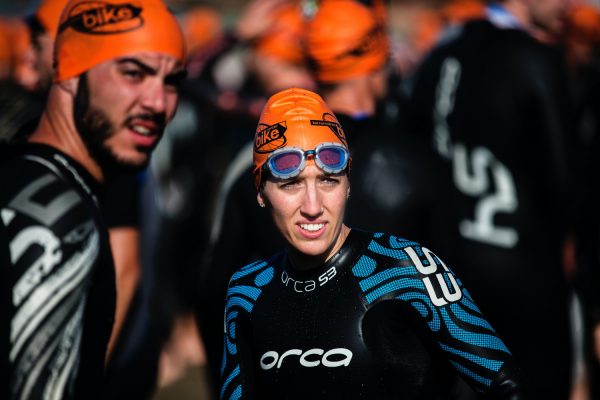 Swim – typically this is the most nerve-wracking part for newbies (particularly if it involves an ocean swim). The key to nailing the swim component is training for a longer distance than you'll swim on race day, and getting in plenty of open ocean practice if relevant. Strong tides and winds can make swimming in a straight line impossible!
Bike – biking can feel like the cruisy part of the race, but make sure you check out the course beforehand, so you're not surprised by any steep hill climbs! On the practical side, make sure your bike tires are correctly inflated (they should be between 80-130 psi for a road bike).
Run – as the last leg of the triathlon, this is where things start to hurt, and 'jelly legs' often come into play. Practicing the full triathlon rather than each element individually is crucial to getting over that line on two legs.
Transitions – often forgotten, the logistics of getting out of the water and onto a bike, and off a bike into a run require practice. If possible, familiarize yourself and practice the course you've signed up to compete on.
Shop 'til you drop
A triathlon can be an expensive sport, but definitely doesn't have to be. Chances are you've got all the gear you need on hand – swim goggles, bike, helmet, swimwear, and running shoes. If you want to take things up a notch, a lightweight bike, clip-in cycling shoes, a specialized triathlon suit, and lightweight sports sunglasses will have you fitting in with the pros. Ask around and you might just find some of this gear hiding in a friend's, colleague's, or family member's closet.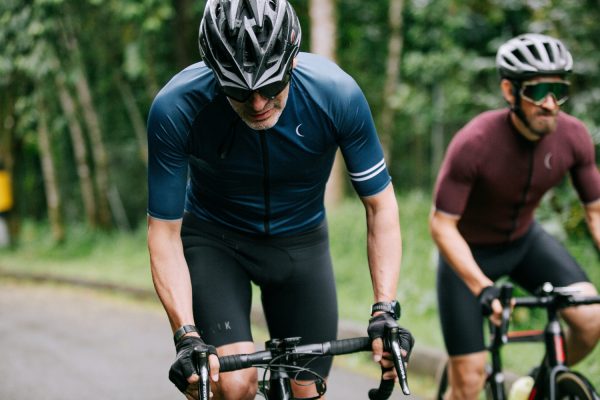 On your marks, get set…
Ready to sign up? Now you know triathlons aren't elitist events that will take over your life, why not convince a friend to join you and start training together?