7 tips to get you podium-ready
Glossophobia, a fear of public speaking, is believed to affect up to 75% of the population in varying degrees. Everything from shaking knees to a beetroot red face, a mouth that's suddenly devoid of saliva to a blank brain that rivals the most seasoned meditators – these are all symptoms of this common phobia. While it might not be speaking to an audience of hundreds, delivering confident updates to even a small team is a key ingredient to success in most professions. Learning how to nurture and grow this skill while leaving behind presentation panic is crucial. Here's how to understand the fear, so you can face the podium with ease.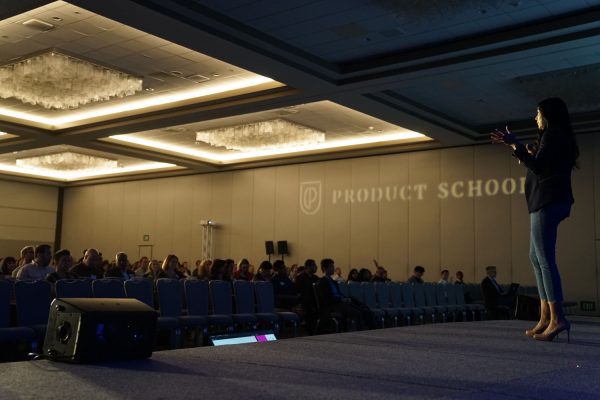 The science behind our fear of public speaking
It's thought that the fear of being watched is etched into our DNA – during our caveman days, the eyes of predators would kick us into fight-or-flight mode. In today's world, we experience this as intense stress and anxiety. Our body responds to this perceived danger with the physical symptoms you see and feel when public speaking (shortness of breath, redness in the face, shaking, and so on). So today, when we speak in front of a group, we feel painfully visible, like a tiger attack is moments away.
Overcome anxiety with these 7 tips
A nerve-free public speaker is rare. Start by accepting that you'll feel nervous, then learn to harness your jitters to add passion and enthusiasm to your delivery. Here's how to get there: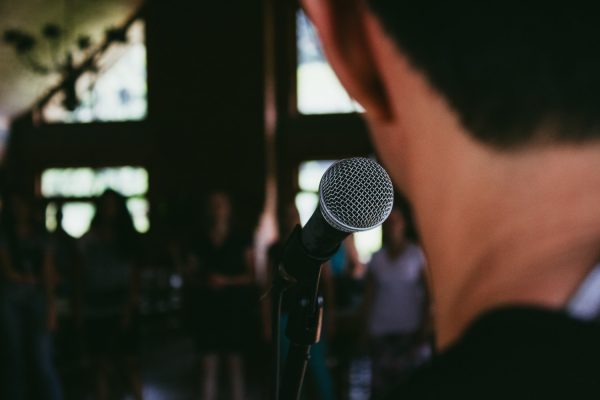 Start small and often
If you're new to the world of public speaking, start small and build up. Find friends and family to practice on – then do it often. As cringeworthy as it sounds, videoing yourself and watching it back is an effective way to improve your delivery.
Know your audience
Take a leaf out of the marketing department's book and get to know who you're talking to. This will help you feel confident you're providing them with useful and interesting material, which can help remove some of your worries.
Get to know the individuals in your audience
As well as knowing broadly who you are talking to, chat with your audience before taking the stage. Spotting familiar faces in the audience helps break up a sea of strangers.
Prepare, prepare, and prepare some more
Feeling at ease with your topic is the key to confidence. The better you know your material, the easier it is to adlib, answer questions, and keep your cool if you lose your way.
Script key points, not every word
Memorizing your script word for word will never feel natural and leaves little or no room for deviations or audience participation. Instead, try scripting key points, prompts, or examples to guide your off-the-cuff delivery.
Go conversational
While it might sound nerve-wracking, involving your audience in your presentation can make it feel more like a conversation. Shifting from monologue to dialogue also engages your audience and takes the strain off you doing all the talking. Try asking questions or encouraging other participation.
Get calm from the inside
Rein in that adrenaline with some simple techniques to embrace your inner Zen before and during your presentation:
Deeply. Adrenalin speeds up your breathing rate. Slow it down with some big deep breaths from your stomach, while keeping your chest still. This tricks your body into thinking you're calm.
Visualize – plenty of studies have proven the effectiveness of positive visualization and it's now common practice for elite athletes and everyday folk alike. Cement an image of an enthused audience in your brain and picture this before entering stage left.
Say cheese (or smile at least) – the humble smile is a natural relaxant (and also contagious). Peppering these throughout your time in front of an audience will have both you and the crowd feeling good.
Slow it down – speaking more slowly than you would in a normal conversation is not only calming for you but beneficial to the audience. A slower pace is easier to hear and digest, particularly in a large room.
Get moving – while we're not suggesting you don the aerobics gear, moving around during your presentation (where practical) gets rid of nervous energy that otherwise may creep out through tapping feet or distracting twitches.
Ready to rock the podium?
Channeling your inner confidence and removing obstacles that create self-doubt are keys to rocking it on the podium. Withdraw your inward focus from the equation and concentrate entirely on your audience – remember, they're there to listen and learn from you. So, get out there and crush it!