A few simple steps to help the headache go away
New specs? Yay! Or is it, "Booo"?
Whether these are your first set of computer glasses to keep that blue light at bay, or some prescription specs, your new outlook can turn out to be a (literal) pain.

When you get new glasses, whether they're prescription or not, or even just new frames, your brain has to catch up with your eyes. That will feel different for everyone. Symptoms can include sore eyes, dizziness, nausea or a headache.
A change in prescription can often have the biggest effect – as your vision has degraded, your brain has been compensating, working overtime to try and see things clearly and add in the missing information. Suddenly, everything's changed. With your new glasses your eyes can see clearly, but your brain is still trying to fix things. This is called vision distortion – it's like your brain is constantly picking up a totally empty suitcase, thinking it's going to be really heavy. The poor thing is flailing, and you're caught in the crossfire.
But is this forever?
If that sounds like you, don't panic! This is almost certainly a temporary thing, and there's also probably nothing wrong with your new glasses, so no need to fork out for another appointment or give up on computer glasses forever. It's an adjustment period. In general, this should resolve by itself in a few days, and can take as long as one or two weeks. How long you'll suffer from vision distortion will depend on how much of a change this is. If it's the first time you've worn glasses, you can expect it to take a little longer. If the changes are only minor and you've worn glasses for years, it should take less time.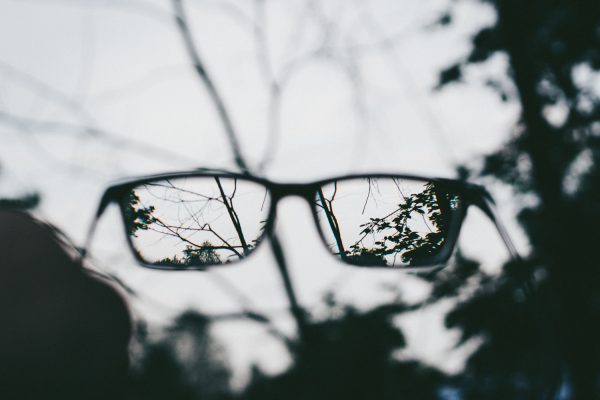 But even a few days of headaches doesn't sound like a good time at all. The good news is, there are a few things you can do to get back to your 20/20 self, faster.
See the back of vision distortion faster – our top tips
Wake up to the new glasses
As soon as you open your eyes, pop on your new glasses and leave them there. It will be easier for your brain to adjust.
Commit to being a four-eyes
Don't be tempted to do without your glasses – or, if these aren't your first pair, to switch back to your old ones. It may feel like you're getting a bit of relief, but it's actually making things worse. It's kinder to your poor brain to wear your new glasses as much as possible. If you really need a break, sit in a dark room where there is nothing to focus on, and keep your eyes closed.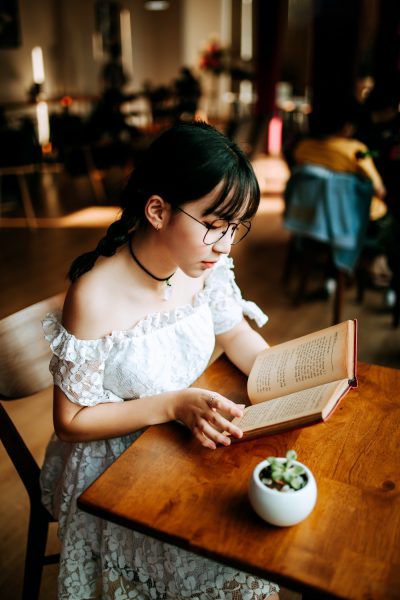 Photo by Anthony Tran on Unsplash
Smudges, grime, chips or scratches just make an already tricky adjustment harder – hello, more eye strain and headaches. Use a proper cleaning solution and cloth to keep your glasses totally clear. Then when you're showering or sleeping, keep your glasses in a case.
Your fit might be making things worse. Your lenses need to sit perfectly in front of your eyes, so you're looking through the right bit. If they're crooked, tilted forward or back, or sitting too high or low on your face, you'll end up with (no surprises here) a bad headache. Look at yourself squarely in the mirror – are your specs sitting right?
If your headaches don't sort themselves out after a couple of weeks, it's probably best to see your optometrist or to double check the fit.
You have all the symptoms, but not the new glasses…
If you have all the symptoms of vision distortion, but you don't have new glasses (or maybe have never worn them) something else might be at play. Blue light glare from your laptop or phone can cause the same range of problems.
Cut back on device use, if you can, or try using a blue-light blocker app on your phone. Blue light also can be emitted from lighting sources like LEDs and old-style fluorescent lights, so check out the lighting in the office and at home.
If you wear specs, you can have your optician add a blue-light blocking layer to your lenses. As a bonus, this also increases contrast and makes things on the screen easier to see.
You can also get purpose-built computer glasses that block that harmful blue light.
Adjusting to improved vision
Headaches are a pain. If you're being bothered by vision distortion from new glasses, don't take them off – instead, try putting on your glasses first thing in the morning to help your brain adjust. Make sure your frames are sitting right, and keep your lenses dust-free and clear. It won't be long before your brain catches up and you can enjoy your new, improved vision. But of course, if your headaches don't sort themselves out after a couple of weeks, it's probably best to see your optometrist or to double check the fit.
The same annoying symptoms (without even glasses to blame) could be caused by blue glare from your electronic devices and LED bulbs. That's an easy fix with special computer glasses or an extra filtering layer on your new prescription lenses.
It's highly likely there's nothing wrong with your new glasses. Follow the directions above for a week, and if your symptoms continue, contact the retailer. Relax – think of this as a chance to get someone else to do the housework for a week.