People who have worked remotely and on site know what we're sayin': the workplace is anything but a place to get things done.
It may come as a shock, but group work environments, constantly trilling phones, and flickering fluorescent lights are not conducive to knocking out a big to-do list.
As big companies start catching on, businesses are being designed more sensibly, with productivity and peace and quiet in mind.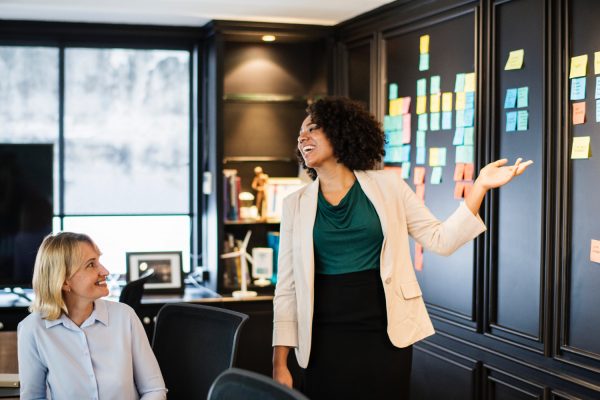 Constant Communication Kills Productivity
One of the biggest reasons the modern office is so disruptive is because of the expectation of constant communication. In his Ted Talk Why Work Doesn't Happen At Work, Basecamp CEO Jason Fried says, "People go to work, and they're basically trading in their work day for a series of "work moments" — that's what happens at the office."
Conference calls, group chats, text messages, your boss poking his head in your office door saying, "You got a sec?" — this is what breaks our eight-hour work days into tiny segments of time left over between communications.
The result is a 40-hour work week in which almost no meaningful work is ever accomplished. On average, the human brain takes 23 minutes and 15 seconds to get back to full focus on a task after it's interrupted. Twenty-three minutes, every time.
How many times in a day are you interrupted? That math is infuriating.
The standard in society is that people are entitled to your time and attention on demand and without warning, but what is that doing to our productivity?
"Group chat is like being in an all-day meeting with random participants and no agenda." ARTICLE by Jason Fried

Meetings on Meetings on MEETINGS
It's an antiquated philosophy, but one that's stubbornly entrenched in much of corporate American culture — we need meetings, and lots of 'em.
Meetings demand everyone drop what they're doing and be in the same place at the same time. Our take? They better be damned important and equally productive.
Without an itinerary, these turn into long, circular discussions and diatribes in which nothing is accomplished and everyone's time is squandered.
Instead, meetings can be made more productive by first determining that this can't just be discussed with an email (because seriously), and then using an itinerary and follow up steps to keep the discussion productive and on track.
Social Obligation
It's not enough for a team to spend 40 hours or more in the same building every week, but then there's the extended social obligation. Breakroom birthday parties, water cooler breeze shooting, after work happy hour — it all adds up to more time spent at work and less time in your own life.

A Twisted Rewards System
As the fallacy of workplace culture continues to be thrown into sharper relief by more practical models, it's become abundantly clear that we've been rewarding people for working more, not necessarily getting more done.
The result is time-based management that rewards inefficiency with a bigger paycheck and punishes productivity with a larger to-do list for the same amount.
Remote Offices Are Coming
Every day, more and more companies are waking up to the inefficiencies of the modern office. With as many as 43% of Americans working at least part-time remotely, the need for a physical office space is dwindling.
In addition, the gig economy is on fire, thanks to the rise of digital freelance opportunities. It's estimated that the majority of the American workforce will be comprised of freelancers within a decade.
What have you done to overcome the inefficiencies of the modern workplace?