Why baring it all is good for the body and soul
If you follow any fitspo types on Instagram, you will likely have seen some of your favorites working out sans footwear lately. Once reserved for yoga flows or kooky naturalists, barefoot training has become more mainstream – with good reason. Numerous trainers have validated the remarkable benefits, not just because it saves time lacing up or money on expensive footwear.
Why are our feet important?
Podiatrists often refer to shoes as "foot coffins". With 26 bones, over 100 tendons, muscles, and ligaments, 33 joints, and around 100,000 nerve endings, we encase our feet in shoes for much of the day. Why is that bad? Well, feet have evolved as the foundation for the whole body – support, balance, posture, and ultimately, our mobility. When our feet are trapped in sneakers (or even worse, high heels) all day, this essential foundation diminishes.
How can working out barefoot help?
Whether walking or working out, there are plenty of benefits of ditching the shoes:
Strengthen your foundation – the muscles in the feet have to work a lot harder when they're not surrounded by the stability, support, and padding of shoes. By strengthening the small muscles that act as stabilizers, you'll notice improved balance, which is often crucial in nailing your workouts.
Strengthen your mind and body – your feet are covered with around 400,000 miniature sensors (proprioceptors) that give you constant feedback about your body's position and alignment. Connecting with these (by going barefoot) will improve your awareness and precision of movement.
Feel the flow-on effect – by engaging the smaller foot muscles, you may feel strength right up through your core, glutes, and hips.
Let your Chi flow – as the only part of the body touching the ground for a large part of the day, your feet are the source of energy release and accumulation. Going barefoot helps energy flow more smoothly through your body.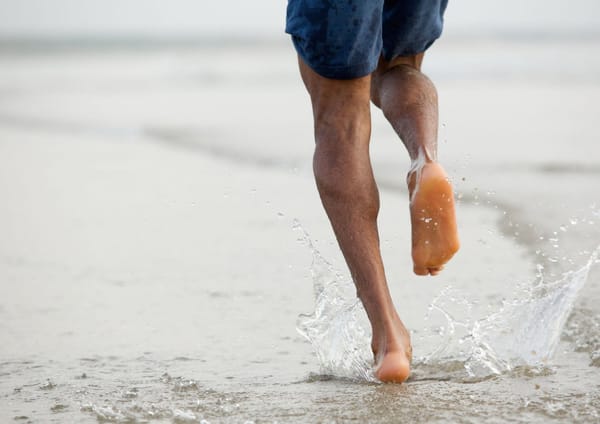 Should you unlace for all your workouts?
While there are many benefits to barefoot training, it's not always appropriate. Here's when you need to think twice about ditching the sneakers:
The hygiene factor – while it's often frowned upon to enter a yoga or Pilates studio laced up, some gyms require sneakers for hygiene purposes – a gym can be a hotbed for fungal skin infections. In that case, save barefoot training for at-home workouts.
Pounding the pavement – sure, our feet were made for running barefoot across the savannas in pursuit of dinner, but they weren't designed for hitting the pavement for marathon training. In this case, regular running shoes are recommended. Barefoot trail running is, however, a thing – but build up to it slowly.
Risky situations – lifting big weights? You don't want to drop them on your naked foot. If you're working with weights, it's best to don sneakers. Other barefoot workout risks include stubbed toes and standing on something sharp or gross – which shouldn't deter you.
How to get started with barefoot training
The secret to success is easing into barefoot training slowly as you would with any muscle group, Your feet need to gradually grow stronger (and less sensitive) before you put too much stress on them.
Depending on your workout of choice, start with a short part of your run on a soft surface like grass or sand and build up. If you're gym-based, use a lighter set of weights sans sneakers.
Alternatively, start your path to barefoot training with yoga or bodyweight exercises. You can get acquainted with your feet without the risk of dropping objects on your toes.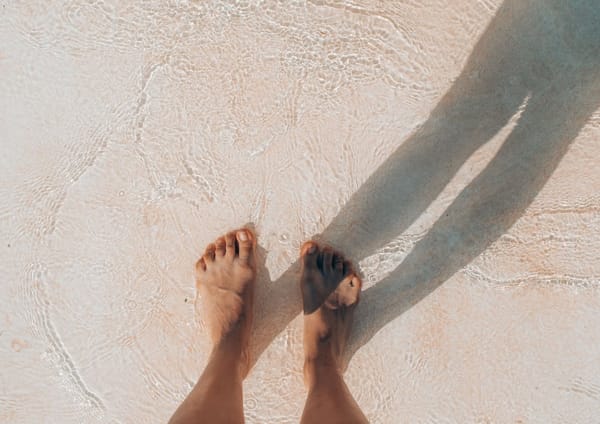 Not quite ready to bare it all?
If you're not keen on being stung by bees, stepping on rogue glass, or stubbing your toes, you still have options. Socks are great for indoor workouts if you want to add a layer between your feet and the floor. It won't be the same sensory experience as bare feet, but you can feel the floor much better than in cumbersome sneakers. Grip socks like the Pedestal "socks with sole" are an excellent option for achieving the barefoot feel without the slip factor. Alternatively, "foot glove" style shoes like those from Vibram are a popular middle ground, mimicking the anatomy of the foot and providing a barrier between you and the elements.
It's bare feet for the win!
The benefits of spending more time shoeless are apparent. So, whether it's simply walking around the house or your garden, taking it further afield to a local park, or incorporating time sans sneakers into your regular workouts, you won't regret it.