Fast fashion is so passé, here's how to slow it down
With global fashion retailers like Zara, Gap, Victoria's Secret, and H&M renowned for their ability to bring catwalk and celebrity trends to your wardrobe at breakneck speeds and affordable prices, we all knew there had to be skeletons in the closet somewhere along the way. While fast fashion burgeoned in the early 2000s (with the average American buying a new piece of clothing every day and 90% of our clothing discarded before it deserves to be), over recent years, the focus has shifted firmly on the true cost of that low-cost t-shirt landing in the wardrobe. Enter the rise of slow fashion.
What is slow fashion?
Slow fashion highlights the huge toll that our current fast-fashion consumerism is having on the environment and industry workers. With once-flourishing rivers across China, India, and Bangladesh now contaminated and toxic dead zones, microfibers flooding our water supply and food chain, and workers like those caught in the Rana Plaza collapse in 2013 becoming more visible, slow fashion is centered around changing the way we consume fashion.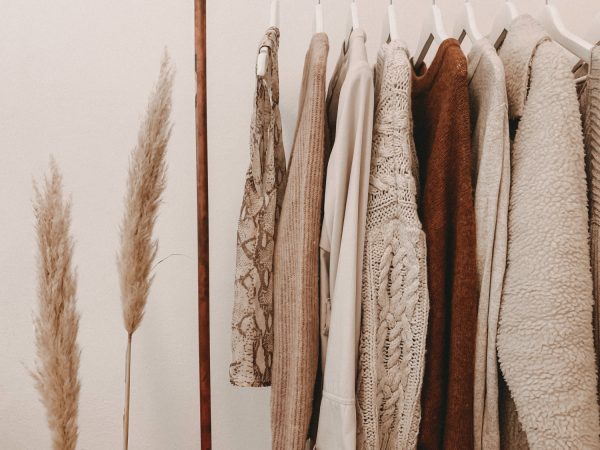 The principles of slow fashion involve producing classic, timeless wardrobe items that are crafted from premium, long-lasting fabrics and techniques. Both the supplier and the consumer must care equally about the process.
How to shop slow
Slow fashion is a re-emergence of the old ways of doing things. It urges us to take a step back and ask ourselves if we really need that new item and if we do, is it a high-quality piece that can happily live in our wardrobes for years to come? Here's how you can embrace slow fashion:
Less really is more
Slow fashion encourages the purchase of fewer items less often. Your purchases should be investment pieces that are carefully considered in terms of how they are going to fit with your existing wardrobe, rather than impulse buys driven by trends. While pieces may cost more initially, you'll be replacing six synthetic t-shirts that will shrink, pill, and lose shape with one or two well-made shirts that will last for years.
Capsule wardrobes lend themselves well to slow fashion. This involves curating a small number of items that can be worn together, and mixing and switching items seasonally.
Support local
Small, independent clothing producers that source, produce and sell locally are the best place to take your frugal shopping spree. Typically, these brands will release a limited number of styles per collection to avoid wastage, and some may even create permanent, seasonless collections. If you can afford to buy something made specifically to your order, that's an even better way to reduce wastage.
There's an app for that
As wardrobe hoarders take stock and adapt to frugality, numerous slow fashion apps have popped up allowing people to swap clothes, shop secondhand, rent pieces, or even ensure their clothing gets the wear it deserves. Anything that stops our current 17 million tons of textile waste winding up in landfill is a positive step!
Darn it
Ask your mom or gran about darning. This mysterious lost art involves fixing clothes rather than treating them as disposables. While we might not be up for repairing socks and underwear just yet, the habit of throwing away something because of a tiny imperfection needs to stop. If you're not handy with a needle and thread, engage the services of your local tailor. Not only can you have items repaired, but you can customize the fit of your clothing, alter waistbands, and replace things like buttons to bring new life to a garment.
And don't forget the cobbler (not the pie!) Shoes can also be repaired and restored at your local shoe repair shop.
Take it a step further with sustainability
While there are plenty of fashion brands out there touting sustainable practices, environmental responsibility, and organic wares, how can you choose genuinely sustainable garments? If you want to have an even lighter impact on the environment, look out for these indicators: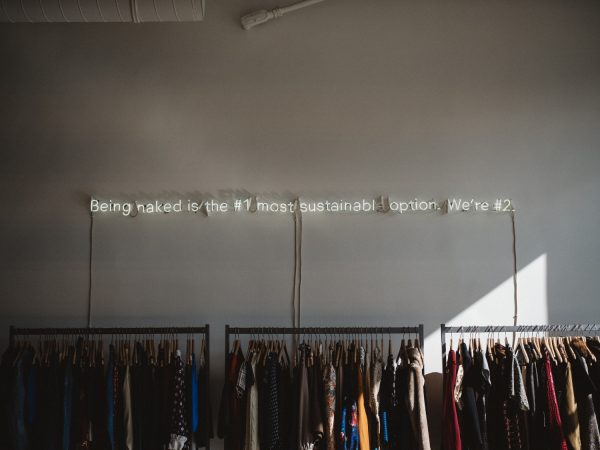 Fabric – high quality, sustainable materials such as linen, hemp, or silk. Avoid leather unless it's recycled, as there is a huge amount that goes into creating a leather item – from pasture grazing to tanning the hides.
Dyes – natural rather than toxic, river polluting synthetics
Look past feel-good alignments – teaming up with charities or worthy causes can be used as a marketing ploy. Make sure you look past these alignments to see if a brand is really living and breathing its values.
Distance – shouldn't make your heart grow fonder. Be wary of anything that comes from a far-off land. When brands move production from Italy to China, you can be certain it's for cost efficiency, which usually means environmental and worker regulations are dropping by the wayside. Instead, buying locally-produced items means you know that regulations are upheld and you cut out all the environmentally harmful travel miles.
Check their credentials – from reviewing their website to checking how they stack up in the Fashion Transparency Index, it pays to do a little bit of homework before purchase.
Feeling overwhelmed? Good On You has compiled The 43 Most Ethical and Sustainable Clothing Brands from the USA and Canada to help you shop with confidence.
Reimagine your relationship with fashion
Slow fashion doesn't mean clearing out your wardrobe and starting again. It means breaking the habit of hitting the shops for something new to wear on a night out and leaving behind the craving many of us have developed for the latest on-trend items.
The single best thing you can do for slow fashion is to use what you have already and make considered choices when you eventually do need to replace things – be it with something new, or new to you.