How to improve your eye health
Tears are miraculous drops of water produced by your eyes. They're mostly associated with crying with sadness, grief, or frustration – but they're so much more than that. Tears are produced by your body when you need them most. Studies have shown that crying has a self-soothing effect, activating the parasympathetic nervous system and helping you regulate emotions. Not only that, but tears also garner sympathy and support from loved ones. It's thought that crying with emotion may be an evolutionary response to surviving in communities, as we are the only animal that does it. But tears aren't just great for mental health – they also keep your eyes clean and healthy.
What are tears?
Made of water, electrolytes, proteins, lipids, and mucins, tears are a clear liquid from your eye's tear glands. The liquid has three layers. On the bottom is the inner mucus, ensuring the tears stick to the eye. In the middle is the watery layer, keeping the eye hydrated and protected. The top layer is oily, ensuring the tears don't evaporate. And what's more incredible is that they have a significantly different composition depending on their type.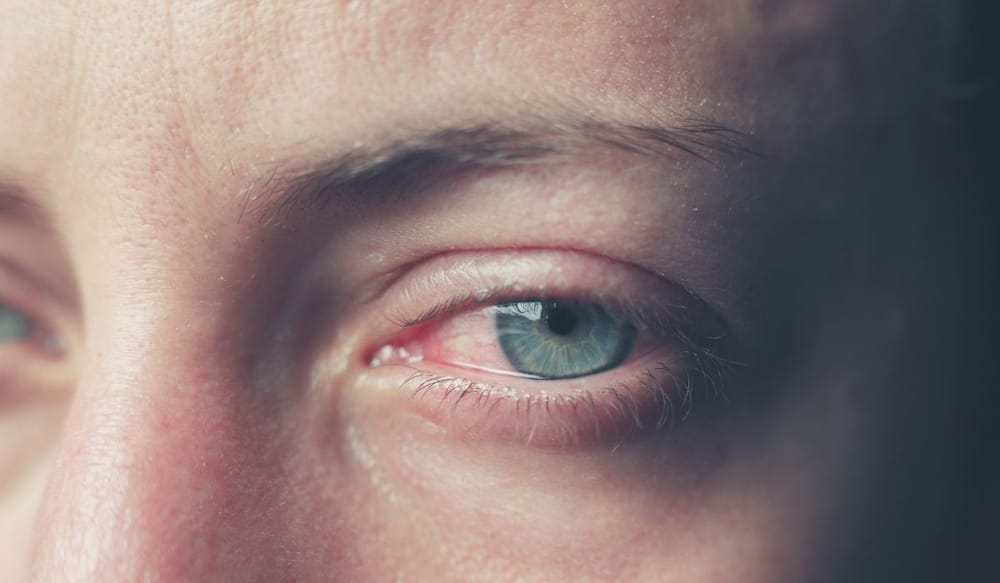 The three types of tears
Your body cleverly produces just the right tears needed for the job. Here are the three types:
1. Basal tears
Crying or not, tears are always present in your eyes. Each time you blink, basal tears keep your eyes moist, lubricated, and protected while sustaining the eye's cornea. Your tear ducts are constantly secreting these tears, and they have antibacterial qualities and lots of protein to keep your eyes clean and healthy.
2. Reflex tears
Triggered by external aggravations like smoke, chemicals, wind, or, more commonly, onions, reflex tears work to remove the irritants and protect your eyes. They also contain antibodies that help fight potential bacteria and usually come in larger amounts than basal tears.
3. Emotional tears
Just as you can feel sick with worry or get butterflies when you're nervous, your physical body is intrinsically linked to your emotional reactions. When you feel a strong emotion, your body will literally move you to tears. These particular tears contain much higher levels of stress hormones than reflex or basal tears and help you regulate stress by releasing oxytocin and endorphins.
How tears work
When tears are secreted from your inner eye, they spread across the entire surface with a single blink and drain into the small holes in the corners of your eyelids. They then run down the small canals that line your lids and empty through the nose. From here, they are either absorbed by your body or evaporated.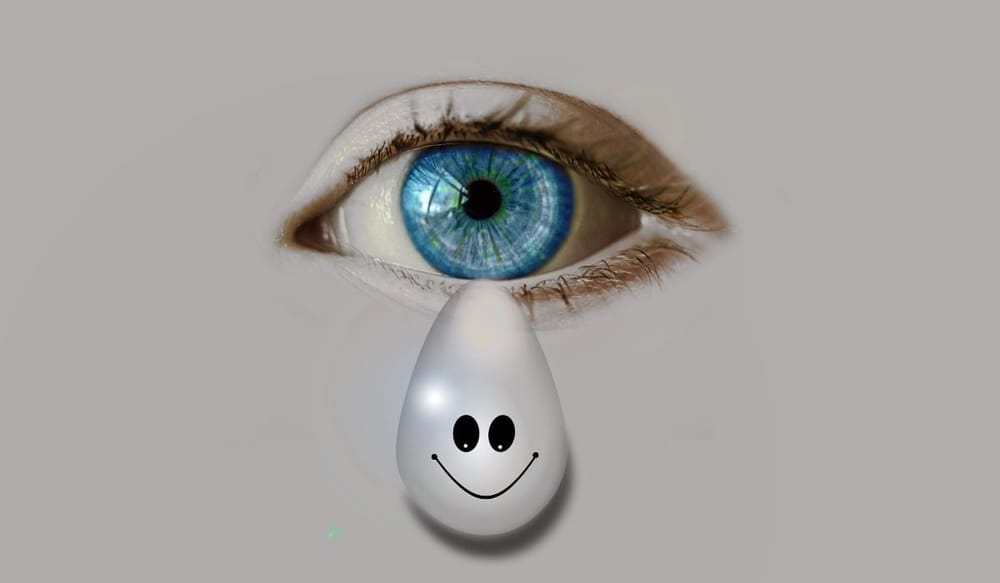 What happens when tears don't work
A common condition called dry eye can occur from a medical problem or just as we get older. It's when your tear glands stop producing enough liquid to lubricate the surface of your eyes. Dry eye is also common with pregnant women or anyone undergoing hormone changes. Symptoms can include:
Discomfort, scratchiness, or pain in your eyes
Redness
Blurred vision
Fatigued eyes
Light sensitivity
Mucus
Keeping your eyes teary and healthy
Unfortunately, dry eye is a chronic condition, so it's unlikely to go away once you have it. To help avoid getting it in the first place, you can take simple precautions. Here are some things you can do at home:
Cut back on-screen time. We blink less than half as often when looking at a screen, which can be hard on our eyes. If cutting back isn't an option, invest in specialized computer glasses to relieve your eyes.
Blink more often to coat your eyes continuously.
Eat a diet rich in omega 3, for example, nuts and fish.
Run a humidifier to make the air in your home less dry.
Avoid too much wind, and minimize the use of fans.
Rest your eyes. Lack of sleep can cause dry eye symptoms to flare up. 
Use warm compresses. Place a warm wet flannel on your closed eyes to unclog the tear ducts.
Try using eye drops. To lubricate the eyes and maintain moisture on the outer layer.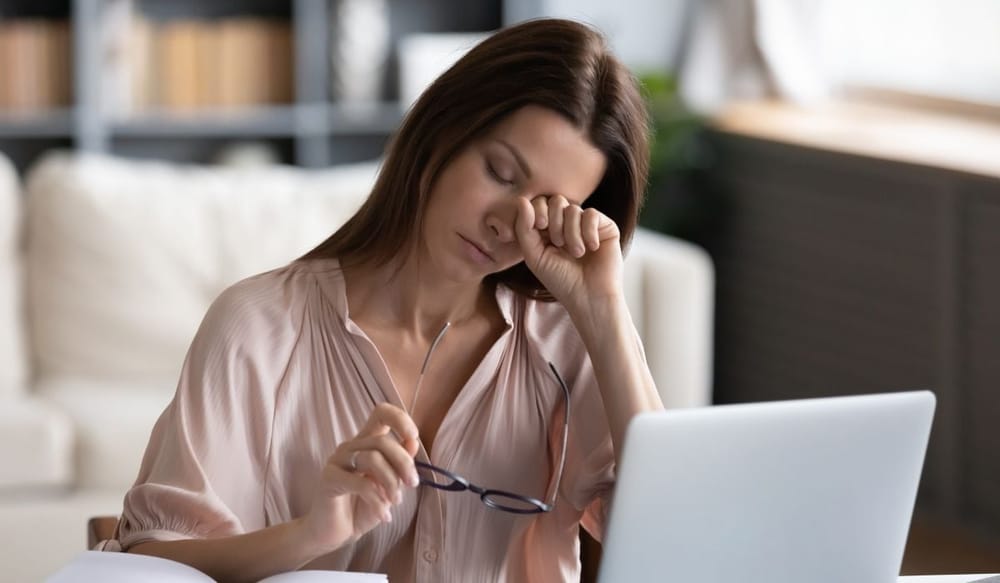 Don't take your eye health for granted
If you have dry eye symptoms and have tried our tips to no avail, don't wait to see a specialist. Tears are essential to help you see clearly and maintain the health of your eyes. Call your local eye specialist and make an appointment today!