From gifts to lighting, here's how to have an eco-infused Christmas
Sleighbells are ringing. And with that often comes an avalanche of kitsch gifts, wrapping paper destined for landfill, excessive amounts of food we can't quite finish, and general gluttony. But is it possible to have a festive season that's high on both cheer and sustainability? The good news is you don't need to compromise. Here are seven simple tips for a mindful Christmas that's big on merriment.
Make yours a gift that lasts
We've all done it – hit the shops in a mad panic to scoop up a gift with little thought, just to tick it off the list. The key here is being organized. Make every gift count by purchasing things you know they'll love, and have both purpose and meaning.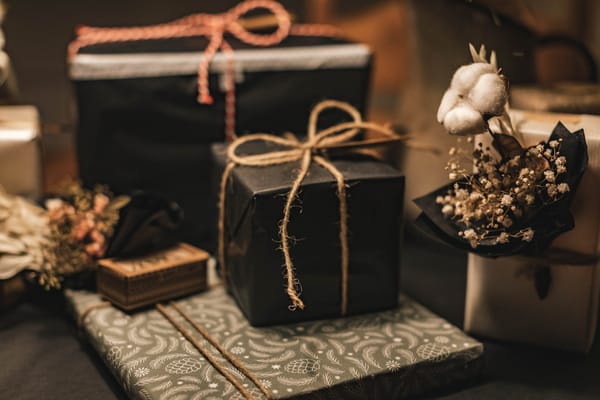 There will always be times when putting a lot of thought into a present simply isn't possible, and for those times, gifts like houseplants, environmentally mindful artisan soap, eco-friendly homewares, some cute organic socks, or homemade goodies will go down a treat.
Handmade for the win!
Save money and the environment by making your gifts. Whether you love baking, painting, sewing, or crafting, gifting a piece of your creativity is sure to be cherished. Not creatively inclined? There's plenty of inspiration online here and here to get you underway.
If you've got kids, it's a perfect opportunity to get them involved – not only do grandparents love receiving handmade cookies and cards from kids, but it also teaches children the value of gifts from the heart.
Spend your pennies locally
Show your local shops and markets some much-needed love this Christmas by choosing their products and produce over imported goods. As well as the feel-good factor that comes with supporting independent businesses, you'll be boosting the local economy and more likely to find a unique gift.
When it comes to shopping for produce, purchasing from local markets will reduce food miles and you'll wind up with fresher goods – win-win!
Wrap with care
Childhood memories of wading through piles of wrapping paper need to become just that – memories. Sticky tape, foil ribbons, and sparkly wrapping paper can't be recycled, so are best avoided if possible. Eco-friendly brown paper is a great option (which you can decorate), or reuse gift bags, boxes, tissue paper, and ribbon from past festivities. An on-trend and greener option is to ditch the paper altogether in favor of fabric. Furoshiki is a traditional Japanese practice that involves wrapping gifts (or anything that needs transporting) in beautiful fabrics to be used again and again. It dates back centuries and is a perfect way to reduce unnecessary waste this festive season.
If you do need to buy wrapping paper, avoid foil or glitter varieties, and remove the tape before recycling.
Trees that count
While the artificial-versus-real Christmas tree conversation has divided families for years, environmental impacts have joined the debate. So, what are the options? You could opt for a potted tree to wheel out year after year, turn a houseplant into a cute low-key Christmas tree, or even rent one – which is undoubtedly the best enviro-option. Rented trees are eventually gifted to Mother Nature through reforestation projects when they've reached the end of their rental life.
Artificial and cut trees aren't completely out. If you choose a cut tree, try to source one locally and check out recycling options. For artificial trees, make sure you choose one that will last a lifetime. It's estimated they need to be used for at least eight years, but ideally 20 to mitigate their carbon footprint (particularly with 85% of artificial trees sold in America being from Chinese origins).
Eat, drink and be merry…in moderation
Reducing your intake of meat products has significant environmental benefits, but that doesn't mean you need to go, well, cold turkey and cut it out completely. Go for a festive spread heavy on plant-based ingredients, source food locally, and choose organic where available. And while having too little food is many people's idea of a Christmas nightmare, try to keep your spread in check by writing a shopping list and sticking to it before you hit the supermarket. It's still inevitable there will be leftovers, so make the most of them with these delicious recipes.
Light up with LED
Making the switch to LED lights will not only benefit the environment, but you'll save on your energy bills too. LEDs consume 80-90% less energy than traditional incandescent bulbs and last around 30 times longer. If you've got outdoor lights in the mix, switch to solar-powered and put all your Christmas lights on a timer for optimum efficiency.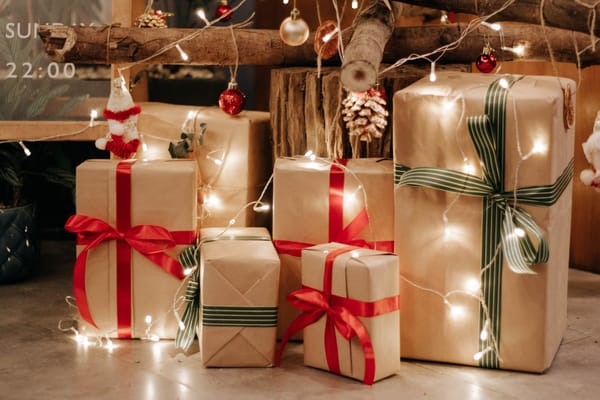 Inject a little more thought into your Christmas
All it takes to make your Christmas more sustainable is a fresh perspective on the typical traditions. Avoid plodding along with the same old things, and simply take a moment to think before you spend. Whether it's on gifts, wrapping paper, your festive decor, or feast – these simple changes will have a positive impact on your wallet, your feel-good factor, and, most importantly, the environment.