Gas guzzler or purring electric, what are the pros and cons?
While we're still a way off the flying cars seen in movies like Back to the Future, and self-driving cars aren't quite here, the gentle hum of an electric vehicle (EV) zipping past is becoming increasingly common. Electric cars have been around since the 1800s (and accounted for around a third of all vehicles on the road by 1900), but gas-guzzling cars shot forward in popularity in the early 1900s. They became much more affordable than their electric counterparts and with gas cheap and readily available (unlike electricity), they gave Americans the freedom to explore. Fast forward to the 21st century and EVs are back in the game – but what has driven this huge renaissance and is it time you jumped on the EV bandwagon?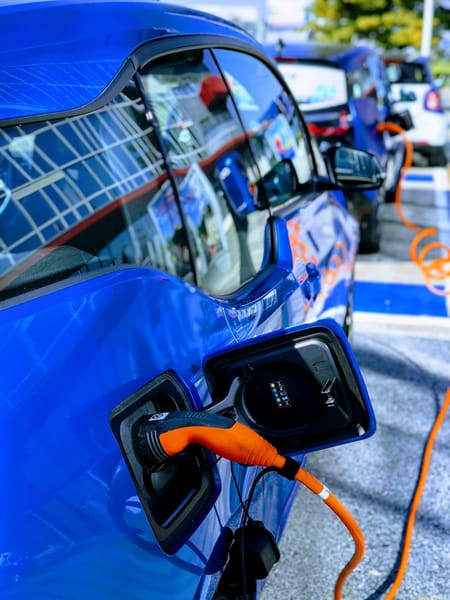 First came the hybrid…
Released in Japan in 1997, the Toyota Prius became the world's first mass-produced hybrid. The Prius has been hailed as a ground-breaking car in the history of the motor vehicle (second only to the Ford Model T which brought gas-powered motorcars to the masses in 1908). With the world becoming more concerned about carbon pollution (and rising gas prices), and hybrid models like the Prius becoming affordable options, a huge mainstream shift away from pure gas to the gas and battery combination has occurred. Toyota has now sold over 15 million hybrids worldwide.
Then came Tesla
With hybrids becoming increasingly widespread, a small Silicon Valley start-up called Tesla Motors announced that it would launch luxury electric sports cars with an unprecedented range in 2008. With plenty of high-profile celebrities jumping behind the wheel of a Tesla, the company quickly became a household name and big automakers began to take notice. They were spurred into action, with the Chevy Volt and Nissan LEAF being released in the US market a couple of years later.
More players in the market have led to improvements in the battery range, lower purchase prices and the expansion of the EV charging network. While it might sound like an EV revolution, there are still plenty of factors to take into consideration before readying your power points.
Pros and cons of EVs
With more and more automakers offering EVs and the technology constantly evolving, so too do the pros and cons. Here's a look at some of the main factors to consider when deciding if an EV is right for you:
Environmental impact – Top of the list for EVs is the fact that they produce zero emissions. With no exhaust system, EVs are infinitely cleaner than their petrol cousins. And with fewer gas-powered vehicles on the road, greenhouse gases will be reduced. In addition, electricity (particularly if it's from a renewable source) is much more planet-friendly than a limited fossil fuel like petrol. On the flip side, the manufacture of EV lithium-ion batteries is debated to produce more CO2 than that needed to produce a conventional car.
Maintenance costs – Feel like your car is constantly at the mechanic for its annual maintenance or an unexpected issue? EVs only have one moving part in the motor – the shaft – whereas a gas-powered car has hundreds. Fewer moving parts mean less maintenance and increased reliability. With an EV, you can farewell oil changes, filter replacements, exhaust repairs, and alternator and cambelt changes.
Range – One of the main reservations people have about switching to electric cars is the battery range. So much so, that it's been given a name – 'range anxiety'. If you're hitting the freeway for a road trip, you don't want your journey to be interrupted by charging stops (which, if you can find them, are much more time-consuming than filling a gas tank in a couple of minutes). And you want to know you can make your daily commute without being stranded roadside. EVs still only travel around half the distance of their gas-powered counterparts before they need a battery top-up, but in reality, this distance (which averages around 181 miles) is more than enough for most drivers.
Daily costs – As gas prices skyrocket, so too has the appeal of EVs. On average, an EV will cost you about $0.03 per mile, with gas double this at just over $0.06.
Entry cost – Since EVs are still in the minority of vehicles on the road (globally they make up around 2% of the market), prices are still relatively high and options are much more limited. Typically, you'll pay at least $10,000 more for a new electric car than its gas equivalent, but as their popularity increases and stock levels do the same, this gap will close. Most major car manufacturers are in on the EV game, with plenty of new models set for release in 2021 and beyond.
Tax credits– With President Joe Biden making climate change a priority of his administration and a new piece of legislation called "Clean Energy for America", there's a push to increase the current federal tax credit from a maximum of $7,500 on all-electric or plug-in hybrid electric cars up to $12,500. That could just about close the gap on the cost between a new electric and new gas car.
It's early days, but EVs are driving us in the right direction
EVs undoubtedly hold plenty of potential for creating a more sustainable future. Reducing our reliance on foreign oil (a limited resource) and lowering carbon pollution are both important steps in the right direction. With regular gas motor vehicles an integral part of society for over a century, the shift to EVs will take time – for both the public and car manufacturers.