Swimsuit season is here, and you're either loving it or hating it.
Scoring a suit that's comfortable, fashionable, and designed for your particular figure can be quite a chore. Purchasing the wrong suit can even cause you to recoil from the summer activities that you love. And what fun is that? A swimsuit should make you feel confident, beautiful, and ready for all the season has to offer!
Thankfully, these companies have heard the cry of women everywhere. Their response?
Create beautiful swimwear for every woman, no matter her size or body type. Not only do these suits pass the fit test, but they're offered in trendy styles and flattering cuts that are designed with the wearer in mind, not just the model.
Sexy high-waisted bikini for the woman who wants to rock her curves? Check!
Figure-flattering one piece for the mom on the go? Not a problem!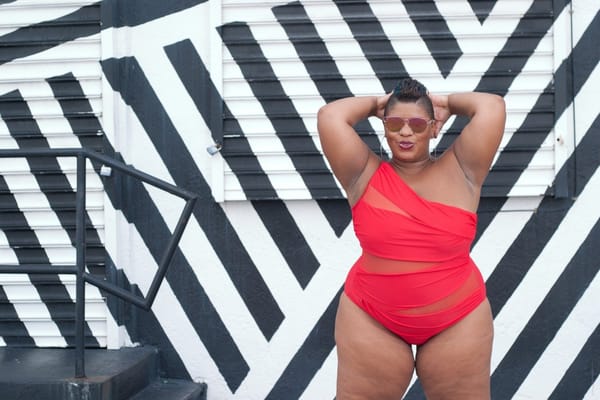 ModCloth is the queen of retro-inspired swimwear. Fun, quirky patterns and vintage silhouettes are their signature look, and they do it well. If you're longing for a classic vibe with a little more coverage than the average suit, look no further. ModCloth is committed to size inclusivity and offers sizes up to 4X. (In fact, they've increased their plus-size inventory by over 300% in the past four years!)
Show off your retro flair this summer with ModCloth's Beach Blanket Bingo One Piece in mint. This suit flatters all body types with its polka dot pattern, low-cut legs and flirty ruching. You're sure to turn heads (in a good way)!

Torrid is known for pushing the limits with curve-hugging shapes and creative designs, and we love them for it. Their swimwear line delivers cutting-edge fashion to women sizes 10-30. And talk about options! Torrid features an endless variety of styles, colors, and silhouettes. Even better — their site provides a swim fit guide to help you measure yourself and guarantee that perfect fit.
Looking to add a little fantasy to your summer? We are crushing on Torrid's youthful pop culture swimsuit line! With this flirty mermaid-inspired suit, you're sure to dive "under the sea" in style!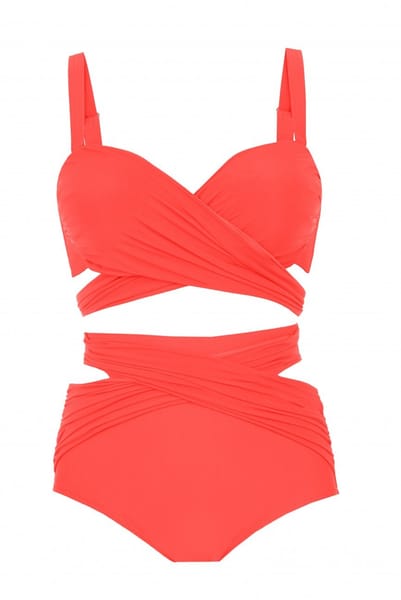 Swimsuits For All has one mission: to inspire ALL women to feel confident in their swimwear. This company focuses on delivering high-quality pieces to their customers by using fabrics that retain their color and shape. If you plan on logging some major meters in the pool this summer, these suits will hold up lap after lap.
Really looking to spice things up? Blogger GabiFresh has teamed up with Swimsuits For All to offer a bold and sexy swimwear collection for women sizes 10-24. Flaunt those curves and look amazing with Gabi's playful Roller Coaster Orange Bikini.
Simply be believes women need options, and their swimwear line proves it. From glamorous one pieces to bright and colorful bikinis, they have it all (and offer these options in sizes 6-28). Their designs are all about inspiring women to confidently embrace themselves for who they truly are.
Do you love drape-front shirts for the way they magically cover your tummy while showing off your best assets? Take a look at Simply be's Magisculpt Drape Front Swimsuit in bold blue. This suit's best feature may be the incredible Magisculpt technology which provides a little extra tuck and smooth in all the right places.
Everyone's favorite fast-fashion retailer, Forever 21 is a great place to shop when you don't want to drop your entire paycheck on a summer look. As to be expected from this beloved company, their latest line of swimwear for 2018 does not disappoint. Forever 21's swimsuits are seriously trendy, affordable, and available in a wide range of sizes. If you need (or just want) multiple swimsuits this year, there's no better place to shop.
Talk about stunning! We just can't get enough of this stretch-knit one piece with delicately dotted mesh details — classy, sophisticated, and perfect for sipping mojitos poolside.
A company dedicated to awakening confidence and self-love in women? We can get behind that.
Like a breath of fresh air, Alpine Butterfly is a new swimwear line featuring dreamy prints and flattering fits. These suits are designed to evoke feelings of happiness in all women regardless of their shape or size.  
Alpine Butterfly features several mix and match designs, but we especially love their sweet and whimsical BFF style. Shown here in rose print, this sexy, flutter-sleeve top pairs well with any of the Alpine Butterfly swim bottom cuts.
If you need a reason to love Target even more, now you've got one!
For years, Target has rocked the competition when it comes to offering affordable, fashion-forward swimwear. Lately, they've really stepped up their game. When they released their 2018 swimsuit line, Target committed to using ZERO reshaping or airbrushing in their swimwear marketing.
That's what I call keepin' it real!
Instead of promoting fake images, your favorite big box retailer is committed to celebrating real women in their advertising and encouraging their customers to embrace the beauty of their own bodies.
And this is why we adore you, Target.
With over 1700 styles in this year's line, there is truly something for everyone. You'll see lots of boho-inspired looks and fun, tribal prints in the mix, including this Tribal One Piece Swimsuit by Miracle Brand's Beach Betty. Made with comfortable, slimming fabric that offers extra support, this suit's perfectly-placed pattern flatters your shape by drawing the eye in all the right directions.