Sunlight, as we know it, is wavelengths on a spectrum. Some is visible to humans, but most is not.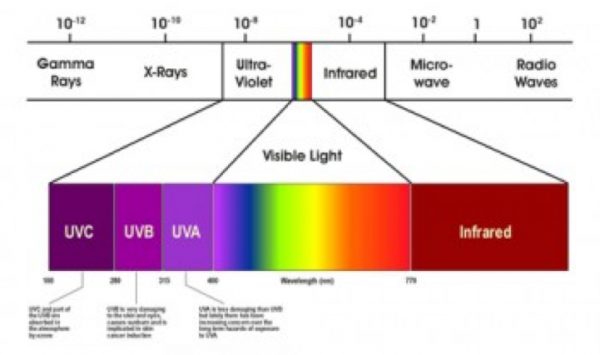 Humans can see the middle of the light spectrum. Birds see light in one end of the spectrum (UV) and some animals, like snakes or insects, can see light at the other end (infrared).
So, we can't see UV, but we know it's there. It comes primarily from the sun, but you'll also find UV light in tanning booths, some lasers, curing and germicidal lamps, and black light.
UV is made up of UVA, UVB and UVC light. By the time sunshine reaches earth, 95% is UVA and 5% is UVB. No UVC light makes it to earth – it's absorbed by water vapour and molecular oxygen in the upper atmosphere. Thank goodness!
The light that DOES make it to earth is the strongest, and while it's crucial to our survival (UV light stimulates the production of vitamin D which is essential for maintaining healthy bones and teeth and more), too much can be carcinogenic. That is, it causes cancer.
The UV index
The World Health Organisation (WHO) global index measures UV levels from 0 (low) to 11+ (extreme). WHO recommends protecting yourself from the sun starting from level three.
UV is higher during the middle part of the day, and in summer. Clouds, pollution and ozone offer protection – even cool parts of New Zealand and Australia have significantly higher UV levels because of their clean air, and because the countries sit under a hole in the ozone layer.
The altitude also affects UV light strength. The higher the altitude, the less atmosphere there is to filter out UV light. With every 1000m gain of altitude, UV levels increase by 10 to 12%.
What is suntan or sunburn?
A tan is your skin's defense against UVB rays. A pigment called melanin is sent to the skin, which darkens it and helps prevent further damage. Melanin is basically a natural sunscreen – but it's also a sign that your skin has already been damaged by UVB.
When the skin is continually exposed to that harmful UV radiation, this overwhelms the body's ability to defend itself, causing sunburn. It happens quickly in light-skinned people, because they have less melanin. The UV rays damage the DNA in those cells, and while the body can heal that damage, sometimes cells mutated by the sun don't die. The result is skin cancer. In the UK, there are about 15,900 melanoma skin cancer cases every year. The rates are increasing, and the sad thing is that 86% of cases are preventable.
We need sunshine – but not too much
But sunshine is a double edge sword – it delivers vitamin D, which we need it to stay healthy. It's thought that the difference in human skin pigments comes from the amount of UVB floating around – the earliest humans were dark-skinned, to protect against the African sun. When humans migrated to climates with weaker sunshine, those with lighter skin fared better – they were able to absorb vitamin D more readily, and passed on their light-skinned genes to the next generation. It's why even today the traditional inhabitants of hot, sunny climates tend to be darker skinned than those living in chilly places.
What does UV light do to your eyes?
We know that UV light damages the skin, but what does it do to your eyes? The results are similar to what it does to the skin.
Photoconjunctivitis – Also called snow blindness or welders flash, this is inflammation of the conjunctiva, a membrane inside the eyelids and socket. It's caused by sunlight, but is made worse near water or snow, as they reflect and therefore potentially doubling UV light exposure.
Macular degeneration – UVA light in particular can damage your central vision. It damages the macula, which is found at the back of your eye. This can lead to vision loss and is common in older people.
Cataract – UVB rays can contribute to or cause cataracts. This is when the eye develops clouding, making it difficult to see and focus on things.
Pterygium – This is a growth that starts on the white part of the eye and, if left untreated, can block vision and cause blindness. This is more common in people who work outside.
Skin cancer – The sun can also cause skin cancer in the delicate skin around the eye, or in the conjunctiva.
Corneal sunburn/photokeratitis – Similar to photoconjunctivitis, photokeratitis is inflammation of the cornea. It's caused by short-term, high levels of sun exposure. It can be painful and cause vision loss for a period of time.
How to protect your eyes
While most people understand why we must protect our skin against the sun, many people don't realise that we also need to protect our eyes.
This means you need to wear sunglasses that have a high UV-blocking rating. Choose sunglasses that offer 400UV (or 100%UV) ratings and remember to wear them even on cloudy days.
UV light can be a killer
While the light we can see is harmless, ultraviolet light from the sun is a known killer. It can cause cancer of the skin and also be damaging to our eyes. Cataracts, snow-blindness and a host of other problems are caused by UV light, but can be avoided with a bit of care.
Always wear sunglasses, and make sure they have a high level of UV protection. Wear them, even on cloudy days, and avoid being outside during the day when the UV rating is highest. In particular remember to wear them around snow and water, as the reflected glare can double the potential damage.
If you follow these few simple steps, you'll keep your eyes healthy for many years to come.